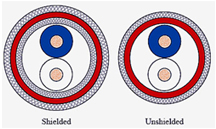 Where ever the temperatures are involved, they need to be measured, monitored and controlled. One of the common methods for the purpose is the use of thermocouples.
When the thermocouple comes in contact with heating object, an emf is generated between its two wires which is proportional to the temperature of the object. Temperature indicator senses this emf and displays the corresponding temperature
Thermocouple extension cables are the lead wires connecting the thermocouple and the temperature indicator. Conductors of these wires are of same metal as that of Thermocouple and hence are quite costly.
Compensating cables are used as a cheaper alternative to these thermocouple extension cables. In this a combination of cheaper metal conductors is used which generates nearly similar emf as the original cables. PTFEinsulated compensating cables are available in various types like 'J', 'K', 'T', 'R' and 'S' in different conductor sizes for specific applications as per need of the customer. PTFE Insulated HR Compensating Cable Type' K' are specially made for use with temperature measuring thermocouples ('K' type) installed near Rotary Kilns and furnaces in Steel, Cement, fertilizer, chemical plants etc.
They are best suited for installations where environmental temperatures are high. Compensating cables are available both with screen (shielded) and without screen as per requirement of the customer. Overall SS wire braid armoring is provided to increase the durability and strength of the cable.
PTFE INSULATED RTD CABLES
RTD cables manufactured by Tefkot Cable Company are used as connecting lead wire between RTD sensor and temperature indicator device. RTD Cables are made in 2 core, 3 core, 4 core and 6 core configurations, 3 cores being the most commonly used configuration.

CONSTRUCTION :- RTD Cables are made in three common constructions for making them suitable for different situations. These are PTFE/PTFE = This is the most common construction. In this the cores are insulated with PTFE and then cores are twisted and jacketed with PTFE. PTFE/Fg = In this construction cores are of PTFE and jacket is of Fiber glass braid. This is used when RTD cable has to be installed in high temperature environment.
PTFE/SPC/PTFE :- In this construction a SPC wire braid shield is provided between twisted cores and jacket. This type of Cable is used where higher accuracy is required. The current and voltage signals in RTD Cables are of very small magnitude and can get affected by external electromagnetic noises produced by external devises such as motors, electronic equipments etc near the cable. The SPC Shield is grounded from one end and this protects the signals in the cable from these external noises.

In all these configurations, an additional SS wire braid Armoring can be provided to increase the mechanical toughness of the cable.
S. No.

SIZE (AWG)

Conductor
Dia (mm)

Conductor Resistance (OHM/Km) max at 20°C

NOMINAL DIA OF FINISHED CABLE (mm)

PTFE / PTFE

PTFE / Fg

PTFE / SPC / PTFE

2 CORE

3 CORE

4 CORE

6 CORE

2 CORE

3 CORE

4 CORE

6 CORE

2 CORE

3 CORE

4 CORE

6 CORE

1

28/7/36 SPC ET

0.39

210.5

1.69

1.95

2.15

2.5

1.6

1.85

2.10

2.4

2.09

2.35

2.55

2.9

2

26/7/34 SPC ET

0.48

133.7

1.85

2.10

2.35

2.80

1.75

2.00

2.30

2.70

2.25

2.50

2.75

3.20

3

24/7/32 SPC ET

0.60

83.2

2.06

2.35

2.65

3.13

1.96

2.25

2.60

3.03

2.46

2.75

3.05

3.53

4

22/19/34 SPC ET

0.80

49.8

2.42

2.77

3.15

3.71

2.32

2.67

3.10

3.61

2.82

3.17

3.55

4.11
Conductor sizes shown in the table are the generally used common sizes. RTD cables can be made in other sizes also as per requirement. When using long cables, it is necessary to check that the measuring equipment is capable of handling the resistance of the cables. Most equipment can cope with up to 100 ohms per core. For better accuracy in measurement, longer the cable length being used, larger should be the area of the conductor so that the resistance of the lead wire is minimal.
COMMON CONSTRUCTION OF RTD CABLES