Why Radiant Heating?
Translator :
There's nothing quite like radiant floor heating. It provides greater comfort than any other heating system. Radiant heating is also the most efficient means of heat delivery in existence. The comfort is unmatched by any other heating alternative. Radiant floor heating is a low temperature system and can be precisely controlled on a room by room basis. Comfort may be achieved with thermostat settings 2 or 3 degrees lower because it warms people and objects directly as opposed to heating air.
In most cases radiant floor heating systems can provide energy savings of 20 to 40% over alternative types of heating system.Our fully programmable digital electronic thermostat ensures optimal comfort and economy. Energy consumption is not determined by the W/m2 of the heating cable or mat but by the thermostat being programmed to ensure optimal economic operation of the heating system.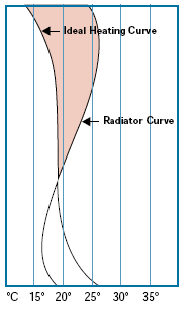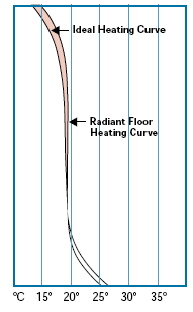 Radiators vs. Radiant Floor Heating
Radiators require high water temperatures and most of the heat delivered by radiators is through convection because their surface area is relatively small. Air passes over and through the radiators creating convective warm air currents. Radiators tend to create uneven pools or warmth with the warm air currents affecting the ideal convective loss of the body. The graphs above show how inefficient and ineffective radiators are compared to radiant floor heating which represents the ideal heating curve and the pink area represents wasted energy / heat. Radiant underfloor heating delivers personal comfort by controlling the radiation heat loss from the body. If the surrounding surfaces (warmed by radiant heat) are roughly the same temperature as our body surface, we feel comfortable with a good sense of well being.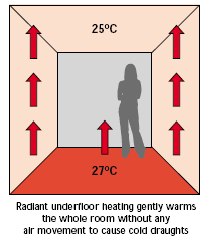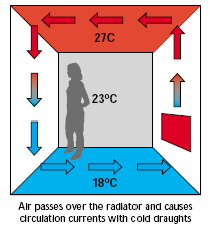 Tefkot made Radiant heating cables and mats are manufactured using superior High temperature PTFE insulation which has the highest working temperature range among all flouroplastic insulations.
The advantages of PTFE insulated heating cables and mats are :-
Free From Aging :
PTFE Insulation over the conductor element prevents it from thermal aging. The life of the wire once laid is as long as life of the Building.


Maintenance Free :
Electrical under floor heating cables are maintenance free as they do not have any moving part as compared to hydronic systems which have valves etc requiring maintenance from time to time. Also tubes in hydronic system get blocked due to contamination and needs periodic replacement.


Very Thin :
Diameter of cable is thinner than the diameter of cable with other insulations like PVC etc. It makes the laying very easy. Nominal diameter of the cable is as small as 1.2 mm for unshielded and 2.4 mm for shielded cable. This factor minimizes the rise of floor level during installation.
Moisture Resistant :
Shielded PTFE insulated heating cables are specially designed for working in places that are prone to moisture, like Bathrooms, etc.
Cost Effective :
Prices of TEFKOT make under floor heating cables are internationally most competitive.