Under floor heating cables are manufactured by Tefkot Cable for comfort radiant heating of new or refurbished houses commercial buildings, etc. It can be installed in almost all type of floor surfaces like tiles, marble, wood (under special conditions), concrete etc. The product is manufactured in different linear wattages to cover all the wattage requirements of different types of rooms. Each and every element is rigorously tested to ensure 100% quality and the cables have been CE approved by world renowned ETL-Intertek testing lab.
The Cables are manufactured in two configurations : -
1) Single wire configuration.
2) Twin wire configuration.
Application
Output (W / m2)
Application
Output (W / m2)
Max.
Normal
Max.
Normal

Living Room

100

70-100

Kindergarden

100

40-60

Kitchen

100

70-100

Office

100

50-70

Sleeping Room

100

70-100

Warehouse

100

80-100

Cellar

100

70-100

Shop

100

80-100

Bath

100

120-150

Wooden Floor*

80

50-70

WC

100

120-150

Freezer Floor*

10-15

Entrance Hall

100

80-100

Storage Heating

250

180-250

Basic Heating

40-60

Snow Melting

350

300



* Max - 10 W / m

Single Wire configuration :-
Single wire configuration cables are the basic cables which has a single resistance wire insulated with PTFE insulation and two cold tails one at each side for power connection. Such cables come with metal shielding for earth protection and can also be manufactured without shield upon request. The shielded configuration is Class II configuration.
The specifications are as below :-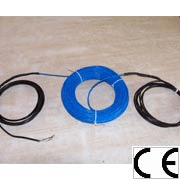 | | |
| --- | --- |
| Cable Type | Single conductor with Screen |
| Rated Voltage | 230 V~ AC |
| Watts per Meter | 11 W/m and 15 W/m |
| Diameter | Ø 2.2 ± 0.2mm |
| Cold Tail Length | 2 X 3m |
| Conductor Insulation | PTFE 265 Deg C |
| Sheath | PTFE 265 Deg C |
| Tolerance Ohmic Value | 10% or -%5 |
| Tolerance Length | 2% or -2% |
Twin Wire Configuration Cable :-
In Twin wire construction the resistance wire comes back in a loop and the cold tail is attached only at one end. This construction enables two equal and opposite electric fields at each point of cable and hence resultant EMF is nearly Zero. The single cold tail makes installation using these cables very simple as there
is no second cold tail to bring back and hence these cables are slowly but steadily gaining popularity and are becoming the preferred choice.
The specifications are as below :-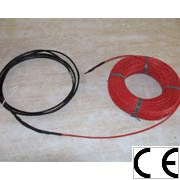 General:
Cable Type
Twin conductor with Screen
Rated Voltage
230 V~ AC
Watts per Meter
7 W/m , 11W/m , 15 W/m
Diameter
Ø 2.0mm to Ø 3.0 mm
Cold Tail Length
3m
Conductor Insulation
PTFE 265 Deg C
Sheath
PTFE 265 Deg C
Tolerance Ohmic Value
10% or -%5
Tolerance Length
2% or -2%
In-Concrete Cables :-
In-Concrete cables are specially designed for use under the concrete floors like in large area conservatories or high mass construction. The construction is such so as to withstand high high abrasion caused by cement and concrete during lying of floor. High Quality PTFE is used for providing High insulation resistance and durability and outer High temperature double PVC Sheathing is done to provide outer covering having excellentabrasion resistance. Ideal for use in large halls and conservatories.
The technical specifications are :-
General:
Cable Type
Twin conductor with Screen
Rated Voltage
240 V~ AC
Watts per Meter
18 W/m
Diameter
Ø6.0 ± 0.1mm
Cold Tail Length
3m
Conductor Insulation
PTFE 265 Deg C
Sheath
PVC 105ºC
Tolerance Ohmic Value
10% or -%5
Tolerance Length
2% or -2%